Malbork Castle is the largest brick castle and the largest castle in the world measured by land area. Teutonic Order moved the capital from Venice to Malbork (Marienburg) in 1309. Since then Malbork was a central place of Teutonic knights until 1466. The Malbork stronghold was built after conquest of Old Prussia.

The stronghold began to be built around 1280.
Malbork Castle, I love visiting Malbork. Each time I am here, I discover new places and details I haven't noticed before. This place is unique and worth your visit. I think we are not able to imagine the whole effort to build shuch a giant brick fortress in 13th, 14th and 15th century.
The Malbork Castle consists upper, middle and low castle. The upper castle is the oldest and here was the seat of the convent. The upper castle housed a main 66 high tower-belfry and the church of the Blessed Virgin Mary.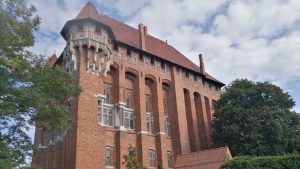 The middle castle had mainly the representative and administrative buildings of the Teutonic Order, and the Palace of the Grant Master. The low castle served as an economic and storage facility. The lowe castle housed for example rooms for servants, infirmary, brewery, bakery, malt house and kitchen.
The whole Malbork castle occupied a huge area of ​​about 21 ha. The basic material for the construction of the castle was brick, limestone and granite.
How to get to Malbork Castle?
Malbork is located in Northern Poland, by Nogat river. The distance form Malbork to Gdansk is 50 km. It takes less then an one hour to get from Gdansk to Malbork. The private package trip is the easiest way to get there. Feel free to contact me and arrange the schedule for your exclusive and private tour to Malbork fortress.

Private tour to Malbork
The whole tour to Malbork Castle takes around 6 hours including:
transfer from your acommodation place to Malbork,
3-hours sightseeing in English or Norwegian
lunch in a restaurant located in the castle
return transfer
You can take a train from Gdansk Glowny train station as well. However train transfer looks easy it is a bit tricky because of a long distance from train station to the castle.
The Malbork Castle Museum is opened almost whole year.