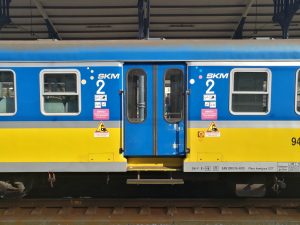 How to get to Sopot from Gdansk? Take the SKM train of course.
We don't have an underground in Gdansk but we have SKM commute train. SKM city train is the most efficient transportation between Gdansk, Gdynia, Sopot and neighborhood. 23 minutes by SKM commuter train and only 1 Euro (4,20 polish zloty). Taking a SKM train will be definitely one of the best Polish experiences.
Blue & yellow SKM-trains are cool, is tradition for all THREE CITY inhabitants. Thousands of residents and tourists are commuting all day long between Gdansk, Sopot and Gdynia. Take the SKM train from platform 3 at the Gdansk Main Train Station (Gdańsk Główny) of from Gdansk Srodmiescie Station situated much closer to Old Town and Forum Gdansk shopping centre.
Sopot Train Station is situated right in the centre of Sopot, 2 minutes by walk from Monte Cassino street and 10 not more than minutes from the Sopot beach and the Sopot pier (MOLO in Sopot).
SKM city trains are departing every 10 minutes during the work day and every 15 minutes on Saturdays and Sundays. After 8 PM SKM trains are departing each 30 minutes.

direct link to SKM train search web page:
https://www.skm.pkp.pl/dla-pasazera/wyszukaj-polaczenie