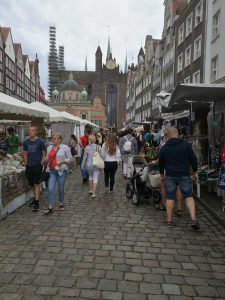 St Dominic's Fair Gdansk 2020, useful information for visitors

It is one of the largest and oldest fairs in Europe with 760 years of history. It lasts for 3 weeks, this year from the 25th of July til 16th August 2020. The St Dominic's Fair in Gdansk is located in the streets of the old town, open to visitors from early morning till late night.
During St. Dominic's Fair you can stroll around among over 600 stalls of crafts, ceramics, jewelry, antiques and even old vinyls and comic books. You can taste a great variety of regional delicacies from Poland, Lithuania, Hungary and other European countries. Every year you can meet great number of local producers of cheeses and wines. It is one of a very few places in the world where you can taste the wines from Poland.
St. Dominic's Fair is the largest open-air trade and cultural event in Poland and one of the largest such events in Europe. 
The fair attractions include also a rich program of  cultural events as:The Gdansk Shakespeare Festival, organ recitals in historical churches and pop concerts. The selection is so large that it is simply not possible to participate in all cultural events organized during the fair. In addition, during weekends, you can watch spectacular shows as well.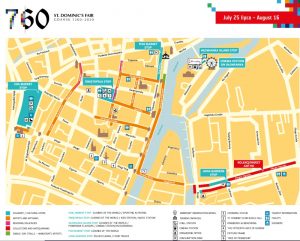 St Dominic's Fair is without doubt a major attraction for collectors and people who love boisterous atmosphere. If you like tasting regional food products, feel free to join us.
More information about St Dominic Fair HERE