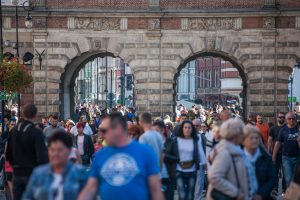 Can I drink tap water in Gdansk, Poland?
Of course you can. Gdansk tap water is safe for drinking. The quality is very good, at least the same as botteled water avaliable in groceries. More than 50% of Gdansks inhabitants drinks tap water every day. Since 1992 SAUR Neptun Gdansk, part of French Saur Group is responsible for producing and supplying driking water and providing wastewater treatment services for the cities of Gdansk and Sopot. The ISO 22000:2005 certification awarded in 2010 gave the official stamp of approval to the quality of water supplied in Gdansk and Sopot.
Drinking tap water during your stay in Gdansk will reduce number of plastic bottles and help our environment.
If you didn't bring your own bottle, buy bottled water once in a local grocery and refill the bottle throughout your stay in Gdansk and other Polis cities.
Due to safety and hygienic reasons I used to provide botteled water for tourists I arrange trips in Gdansk. If you want to book one of my trips, please contact me and choose a trip that fits you best.